Resources
Whether you are taking piano lessons or teaching piano lessons, I hope you might find these resources helpful.
How to Properly Adjust the Piano Bench
Each body is unique, and the height and distance of the piano bench must be adjusted to allow you to play with maximum ease and comfort. Here is a PDF with detailed description and images on how to achieve the proper bench adjustment for your unique body. Adjusting the Piano Bench
Books on Music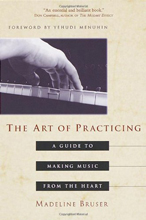 The Art of Practicing: A Guide to Making Music from the Heart by my teacher Madeline Bruser. Anyone who wishes to break through to a new level of playing should read this book. Madeline speaks to all of us as she untangles the sometimes confusing and frustrating path of making music that comes from the heart. She helps us see how our habits can get in the way of our natural musical abilities. In addition to providing solutions to issues caused by improper use of the body, Madeline gives detailed steps to help us deepen our listening and perception of the music we're making. Her book, and her teaching, helped me go beyond my limitations and play the piano with greater ease, achieve the sound I always knew I was capable of, and most importantly, she helped me play pain free.
Piano Tuner and Technician
Boris Novofastovsky. Boris is a 3rd generation piano tuner/technician, he is Steinway certified and has extensive experience tuning European brand and antique pianos. Visit Boris' website: bon-tone.com
Boris has been tuning and caring for my Estonia grand piano for over 9 years. Boris keeps my piano in pristine condition and gives it a full, rich sound more beautiful than when I selected it on the showroom floor. I appreciate and trust the kind care and attention he provides me and my business.
♦ ♦ ♦ ♦ ♦ ♦
If you are interested in taking piano lessons with me and learning more about how I can help you, please call me at 917.595.7137, or use my contact form to send me an e-mail.
Kind regards,
Louis Yungling